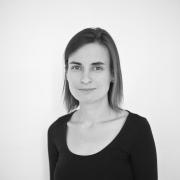 Illustrator
Biography
Anna is an illustrator, graphic designer and founder of "Bylo nebylo", a Czech publishing house. Bylo nebylo originated as an outlet for Anna to publish her own work after her studies at the Academy of Arts in Prague.
Bylo nebylo ("Once upon a time" in Czech) publishes primarily artists' books in many different genres - poetry, children's books, fiction for adults, diaries... what they share in common is often poetic language and playfulness. Many of them are published in small editions and are hand bound.
Nowadays, Anna is joined in Bylo nebylo with writer Helena Černohorská who is responsible for all things wordy – mainly proofreading and copy-editing. Anna focuses on the visual side of their books as an art director, but being a publishing house specialising in artists' books means that often the art director does not touch them at all – for the benefit of all.
Interests
Interés
Illustrated album
Animation
Posters
Comic
Design
Education
Writing
Fashion
Mural
Other books
Packaging
Press
Advertising
Covers
Video games
Gallery