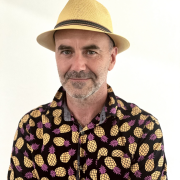 Illustrator
Biography
Graduated in Fine Arts from the University of the Basque Country in 2002, he later took doctorate courses at the same University.
Painting forms part of the bulk of Aitor Lajarín's work, and is also the origin of his work in the field of photography and installation, since "sometimes it asks to be translated into a mechanical image or expanded in space", according to his own words.
He lived and worked for a time in the city of Barcelona until 2007, when he received the Artium Grant for creation and research in the United States and thus moved to the city of Los Angeles at the beginning of 2008. This allowed him to broaden his artistic perspective and serve of inspiration for some of his works, which reflects the nocturnal world of this city. His work shows, narrates and flows parallel to cinema, with the aim of conceiving each series as an entity with its own personality.
Interests
Interés
Illustrated album
Animation
Posters
Comic
Design
Education
Writing
Fashion
Mural
Other books
Packaging
Press
Advertising
Covers
Video games
Gallery