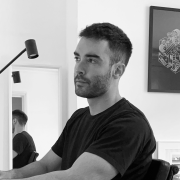 Editorial
Biography
Julen Sáenz is a designer and art director based in London where he currently works remotely as a freelance art director at Apple.
He has developed his career of more than a decade of experience working with internationally renowned studios and agencies such as Herraiz&Soto, Doubleyou, R/GA and DesignStudio developing visual systems and brand experiences.
Currently, he works as an independent designer and art director, creating brands and campaigns for Adolfo Dominguez, Mycoworks, Cayón Gallery, Arcane, Twitch and Pol Studio among others. In addition to collaborating with studies and companies.
Interests
Interés
Illustrated album
Animation
Posters
Comic
Design
Education
Writing
Fashion
Mural
Other books
Packaging
Press
Advertising
Covers
Video games
Gallery