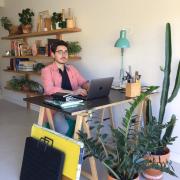 Illustrator
Biography
Valerio Vidali is an Italian illustrator and picture book author. His book The Forest (Enchanted Lion, 2018) was a New York Times Best Illustrated Book, as was his book Jemmy Button, in 2013.
He was the recipient of the Grand Prix of Ilustrarte, International Biennial of Illustration of Lisbon, The CJ Picture Book Award; as well as honors from the American Society of Illustrators and the Bologna Children's Book Fair.
His book Hundert (Kein & Aber 2018) was nominated for the German Children's Literature Award and has been translated into 17 languages.
In 2021 he illustrated for Enchanted Lion the first English edition of Telephone Tales by Gianni Rodari. Now also published by Einaudi Ragazzi.
Interests
Interés
Illustrated album
Animation
Posters
Comic
Design
Education
Writing
Fashion
Mural
Other books
Packaging
Press
Advertising
Covers
Video games
Gallery