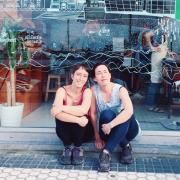 Last name
Maria Altuna Lizarraga & Nuria Santaularia (Numa Pottery)
Biography
Numa Pottery and Maria Altuna Lizarraga, have been sharing a space since 2019 in a very cute workshop in Plaza Tres Pilares in the Bilbao la Vieja neighborhood.
Nuria Santaularia Hurtado (Bilbao, 1976), Numa Pottery, after three years of veterinary studies decides to change her life and studies Fashion Design at INEDI Design School in Bilbao. Create several collections by participating in Getxo Moda with one of them. Later, she completed a master's degree in Pattern Design where she discovered her passion for illustration and ceramics. In 2017 he meets Maria who invites him to share a work space in her workshop.
Maria Altuna Lizarraga (Zizurkil, 1988), versatile artist, educator and researcher, carries out multidisciplinary work from Bilbao, ranging from artistic and utilitarian ceramics to illustration and collaborative projects. Graduated in Fine Arts at the EHU-UPV, she has completed two master's degrees; one for research and artistic creation, and another for teacher training.
Personal information
Last name
Maria Altuna Lizarraga & Nuria Santaularia (Numa Pottery)
Interests
Interés
Illustrated album
Animation
Posters
Comic
Design
Education
Writing
Fashion
Mural
Other books
Packaging
Press
Advertising
Covers
Video games
Gallery