PROFESSIONAL MEETING
Through your Personal Area, you will be able to select who you are interested in meeting in the Professional Appointments section. Prepare your profile well and make your requests from 11 to 15 October. You can select a maximum of 8 publishers or agents. These people will receive your profile from the Irudika community and, after receiving all the applications, they will make a selection of illustrators with whom they will make an appointment, either in person for those of you who have your ticket for Artium or by video call for those of you who have an online ticket.
Once the agents have selected the profiles, on Monday 25th October you will receive a message with your appointments, with the date and time assigned. Along with this information, for those of you with an online ticket, you will see a link to the video call. If you have a bad memory, don't worry, you can check your appointments as many times as you want from your Personal Area.
When the time comes, all you have to do is access the Professional Appointments panel in your Personal Area and click on the link that will open the video call system. You will have 15 minutes for your jitsi appointment. Please check that your camera and microphone are working.
The appointments will take place on 29 and 30 October, at Artium and by video call. It is very important that you try to make time in your diary for this personal appointment. If it is totally impossible due to scheduling problems, you can contact Irudika and we will try to make it possible. 
The speakers who will attend professional appointments are:
PATO LÓGICO André Letria 
ORFEU NEGRO Carla Oliveira
PLANETA TANGERINA 
SENHORA PRESIDENTA 
BEJA BD FESTIVAL PICTURE FESTIVAL Carole Saturno 
CUISTAX FANZINE Fanny Dreyer, Chloe Perarnau & Sarah Cheveau 
PASTEL Odile Josselin 
ACTES NORD EDITIONS Nicolas Belayew & Corinne Clarysse 
ERDOSAIN Daniel Blanco Pantoja 
EKARÉ SUR Claudia Larraguibel 
TXALAPARTA Garazi Arrula 
FULGENCIO PIMENTEL César Sánchez
FUTUROPOLIS Sébastien Gnaedig 
MARTÍN EVELSON Editor independiente
PETRA EDICIONES Peggy Espinosa
Birds Of A Feather Agency (Birds Of A Feather Agency)
Ó! GALERIA Emma Ribeiro 
 ONLINE professional meetings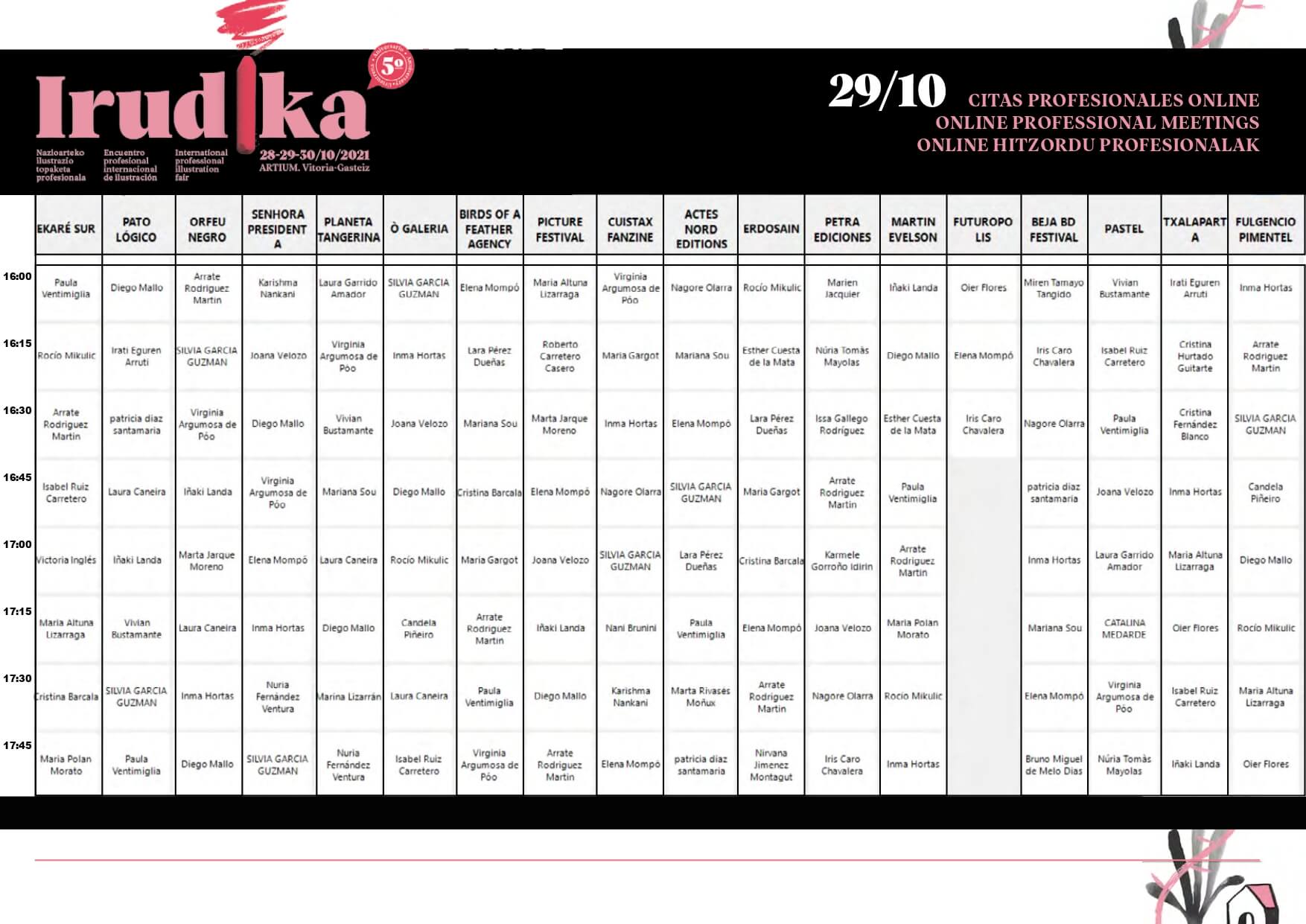 Physical professional meetings